RecessedSlide™ | High-Performance Sliding Door System
Our RecessedSlide™ system is an under-mount system built into the wall cavity, NOT in the hallway or room. Our RecessedSlide™ system always includes a Sidelite. The track system is pre-assembled and set to the clear opening for an easy install.
Mod

T

rax™
Delivering Durable, Reliable, and Cost Effective Sliding Door Systems
Why Architects choose the RecessedSlide™
The RecessedSlide™ takes the space savings to the next level. Built into the cavity of the wall, this interior sliding door system will not encroach in the hallway and room, creating more space than a surface mounted system. This sliding door system is ideal for high-traffic areas where space is limited.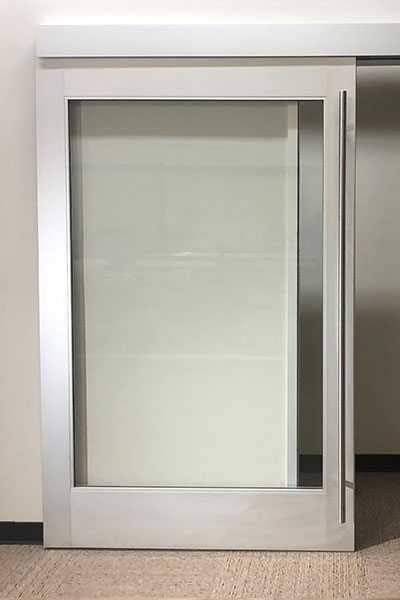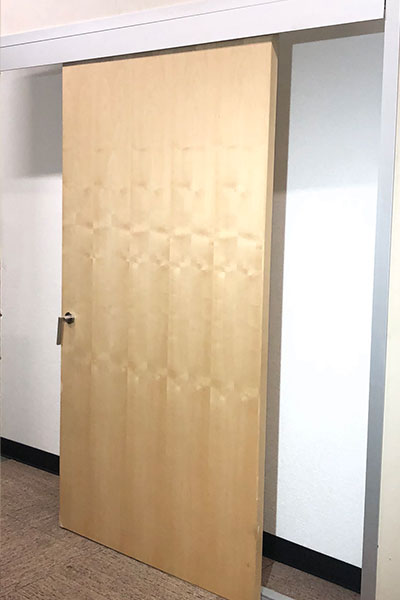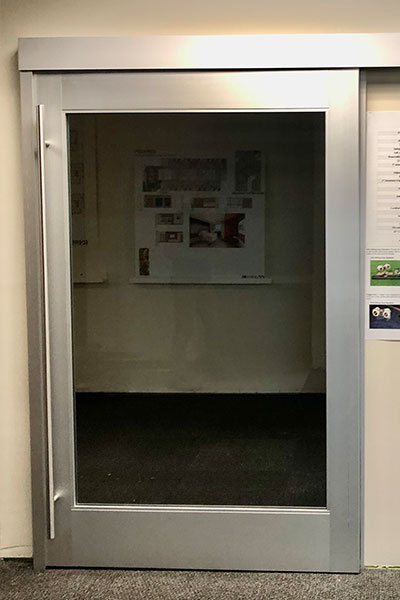 RecessedSlide™ Features:
Pre-assembled track system set to the clear opening & includes sidelite
Soft closers that are removable without removing or readjusting the door
Acoustic & smoke gaskets options
Space saving low maintenance design that recovers 9 to 30 sq. ft.
Ball bearing rollers & guides
Installs in 6 easy steps… without a certified installer
Fits any door manufacture, endless door & hardware options
Custom auto door gaskets for the bottom of the door
"We don't spend our time pontificating about high-concept things; We spend our time solving engineering and manufacturing problems."
– Elon Musk
The sliding door industry has exploded over the past few years. Sliding door systems have been the go-to solution for architects and designers looking for a space-saving option for medical, commercial, and educational projects.
The team at ModTrax collaborated with architects, designers, installers, and clients throughout the United States and took all of their feedback into consideration when designing and developing the RecessedSlide™. The end result is sliding door systems that stand up to daily use without constant maintenance.
Here are just a few of the problems the ModTrax™ RecessedSlide™ door system solves:
Fits into the cavity of the wall, not in the hallway or room

Pre-assembled track for quick installation

Pre-loaded soft closers set to the clear opening 

Includes shims and hardware for easy installation

Pre-drilled track and door pocket so no aluminum filings get into rollers

Installs in 6 easy steps

Does not require a certified installer
Anti-vibration hardware prevents parts from coming unsecure

Robust soft closer prevents failure

Heavy-duty door stops prevent slamming and protects users

Integrated trigger arm ensures safety and less moving parts
ModTrax

 Care Plan for extended warranty

Soft closers are removable without removing or adjusting the door

Replaceable gaskets in the door pocket and jamb
Contact us for more info or to set up a product knowledge class.
Ask about our Mod

T

rax™ Care Plan.
Standard System Features
Pre-assembled track set to the clear opening

Aluminum case opening with integrated gaskets 

Vertical door pocket, integrated gaskets

(2) adjustable, removable soft closers set into the head of the track 

(2) independent aluminum roller guides 

(4) 1 ¼" ball bearing nylon wheels and built in 1" trigger arm 

(2) custom heavy duty hanger brackets, 

(2) 2" x 2¼" heavy duty aluminum door stops with dual rubber bumpers 

(1) 7/8" concealed ball bearing floor guide

(1) 1" aluminum track to be concealed in bottom of door

Anti-vibration hardware, gaskets, shims & instructions
Options
ModTrax

 Care Plan 

Custom sidelites & transoms

Auto door gasket at the bottom of door

Enhanced gaskets

Custom design systems

ADA compliant hardware

Limitless glazing options/blinds/white boards
Benefits
Space saving, fits into the cavity of the wall

Soft closing

Endless clear opening sizes

Pre-assembled track

Pre-drilled track & jamb

Heavy-duty ball bearing rollers & guides

Independent removable soft closers

Easy installation

Low maintenance
Door Manufacturers
Fits any 1 ¾" commercial interior door

Ability to match hinge doors identically 

Aluminum stile & rail doors

Wood stile & rail doors

Laminates/formica 

Acrovyn, VT, Edger's, Masonite

Custom doors

Oversized doors
Hardware Options
Flush pulls

Surface pulls

Key locks with SFIC options

Privacy locks (with or without indicator)

Self-locking, self-latching mortise

Single action egress

Magnetic lock with key card

Electrified lock with built-in power transfer

Surface pulls with mortise lock

ADA compliant hardware available 

Antimicrobial coating available
Mod

T

rax™
High-Performance Sliding Door Systems