PocketSlide™ | High-Performance Sliding Door Systems
Our PocketSlide™ system is an under-mount system that fits into the cavity of the wall NOT in the hallway or room. The door slides into the wall and is concealed when open and fits any 1 ¾" commercial interior door. It is used when there is no room for a hinged or sliding door.
Mod

T

rax™
Delivering Durable, Reliable, and Cost Effective Sliding Door Systems
Sliding door systems have become popular in the past few years as a way to increase floor space. However, the doors are typically mounted on the outside of the walls. Sometimes tight spaces with heavy traffic may need to conserve as much space as possible. The PocketSlide™ is the perfect solution, built into the wall's cavity allows you to maximize your floor space.
PocketSlide™ Features:
Pre-assembled track system set to the clear opening
Removable soft closers without removing or readjusting the door
Ball bearing rollers & guides
Space saving low maintenance design
Fits any door manufacture
Hardware options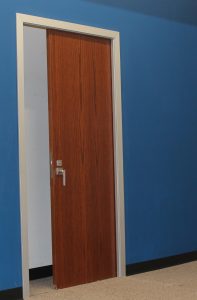 Contact us for more info or to set up a product knowledge class.
Ask about our Mod

T

rax™ Care Plan.
Standard System Features
Pre-assembled track set to the clear opening

Vertical door pocket, integrated gaskets, 

(2) removable soft closers set into the head of the track 

(2) independent aluminum roller guides 

(4) ball bearing nylon wheels and built-in trigger arm 

(2) custom heavy duty hanger brackets, 

(2) aluminum door stops with dual rubber bumpers 

(1) 7/8" concealed ball bearing floor guide

(1) 1" aluminum track to be concealed in bottom of door

Anti-vibration hardware, gaskets, shims & instructions
Options
ModTrax

Care Plan 

2 x 4 Wall Construction

2 x 6 Wall Construction

Trim Kit available for 2 x 4

Auto door gasket at the bottom of the door

ADA Compliant Hardware
Benefits
Space Saving

Soft Closing

Endless Clear Opening Sizes

Pre-Assembled Track

Pre-Drilled Track

Heavy-Duty Ball Bearing Rollers & Guides

Low maintenance
Door Manufacturers
Fits any 1 ¾" commercial interior door

Ability to match hinge doors identically 

Aluminum stile & rail doors

Wood stile & rail doors

Laminates/formica 

Acrovyn, VT, Edger's, Masonite

Custom doors
Hardware Options
Flush pulls

Surface pulls

Privacy locks (with or without indicator)

Self-locking, self-latching mortise

Single action egress

Surface pulls with mortise lock
Mod

T

rax™
High-Performance Sliding Door Systems