MedicalSlide™ | High-Performance Sliding Door Systems
The MedicalSlide™ is a high-performance sliding door system designed for the medical industry. Our systems are primarily used in healthcare facilities, VA hospitals, urgent care buildings: exam rooms, restrooms, patient rooms, and more. This hospital sliding door system is designed for use with any 1¾" door with optional sidelites and transoms.
Mod

T

rax™
Delivering Durable, Reliable, and Cost Effective Sliding Door Systems
Architects, designers, and health care facilities are seeking a sliding door system engineered to stand up to daily use and perform to the design and function intended.
ModTrax MedicalSlide™ features a surface-mounted top hung system with dual independent 1¼" quad ball bearing rollers and dual soft closers that are removable without removing or readjusting the door.
Removable soft closers are cycle tested over 150,000 times.
Standard ball bearing rollers hold over 300 lbs. per door.
MedicalSlide™ saves medical facilities 9 to 30 sq. ft. per opening.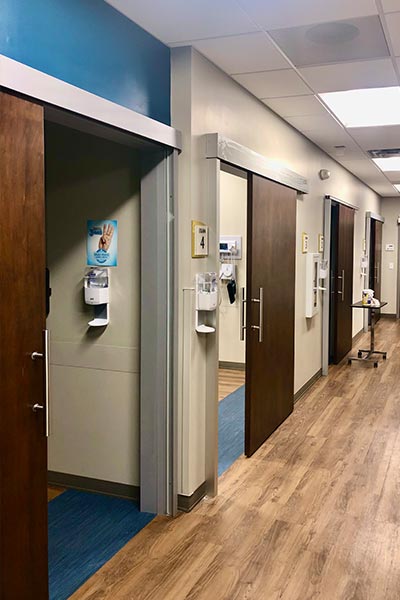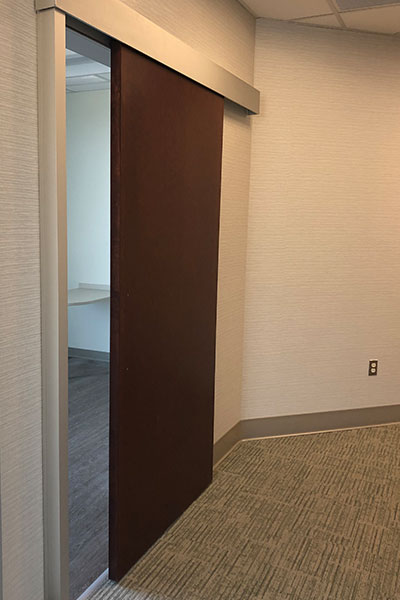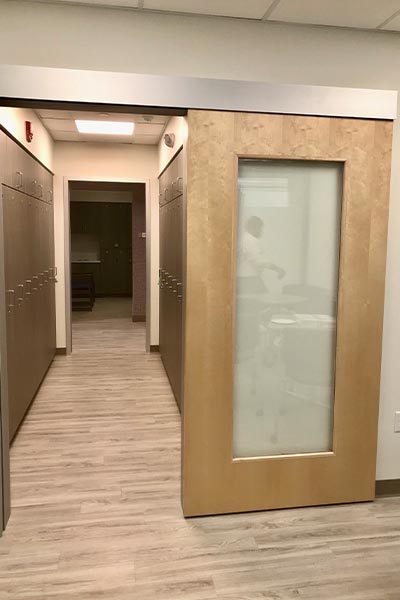 Sliding door systems have become more and more popular over the past several years due to their design, ability to save space, and many options. Unfortunately, many of these tracks have issues with performance, installation, cost, repair & warranty.
ModTrax has collaborated with architects, designers, and installers to address these issues and enhance numerous features, setting a new industry standard.
MedicalSlide™ Features:
Pre-assembled track system set to the clear opening
Soft closers that are removable without removing or readjusting the door
Acoustic & smoke gaskets options
Space saving low maintenance design
Ball bearing rollers & guides
Installs in 6 easy steps… without a certified installer
Fits any door manufacture, endless door, & hardware options
Custom auto door gaskets for the bottom of the door and head of the jamb
STC Rated Options: from 32 to 39 depending on your clients' needs and budget.
"We cannot solve a problem with the same level of thinking that created them."
— Albert Einstein
Here are just a few of the problems the ModTrax™ MedicalSlide™ door system solves:
Pre-assembled track for quick installation
Pre-loaded soft closers set to the clear opening
Includes shims and hardware for easy installation
Pre-drilled track and door pocket so no aluminum filings get into rollers
Does not require a certified installer
Simple 6-step installation guide
Active safety features at each end of the track
Anti-vibration hardware prevents parts from becoming unsecure
Robust soft closer which prevents failure
Heavy-duty door stops prevent slamming and protect users
Integrated trigger arm ensures safety and less moving parts
ModTrax Care Plan for extended warranty
Soft closers that are removable without removing or adjusting the door
Replaceable gaskets in the door pocket and jamb
Contact us for more info or to set up a product knowledge class.
Ask about our Mod

T

rax™ Care Plan.
Standard System Features
Pre-assembled track set to the clear opening

Aluminum case opening with integrated permitter gaskets 

Vertical door pocket, integrated gaskets, and seamless cap

(2) adjustable, removable soft closers set into the head of the track 

(2) independent aluminum roller guides 

(4) 1 ¼" ball bearing nylon wheels and built in 1" trigger arm 

(2) custom heavy duty hanger brackets

(2) 2" x 2¼" heavy duty aluminum door stops with dual rubber bumpers 

(1) 7/8" concealed ball bearing floor guide

(1) 1" aluminum track to be concealed in bottom of door

(2) active safety features

Anti-vibration hardware, gaskets, shims & instructions
Options
ModTrax

 Care Plan

Custom sidelites & transoms

Auto door gasket at the bottom of the door

Auto door gasket at the Head of the jamb

Enhanced gaskets

Mechanical self-closer

Automated closers

Custom design systems

ADA compliant hardware

Limitless glazing options/blinds/white boards

Lead lined option
Benefits
Space saving

Soft closing

Endless clear opening sizes

Pre-assembled track

Pre-drilled track & jamb

Heavy-duty ball bearing rollers & guides

Independent removable soft closers

Active safety features

Easy installation

Low maintenance
Door Manufacturers
Fits any 1 ¾" commercial interior door

Ability to match hinge doors identically 

Aluminum stile & rail doors

Wood stile & rail doors

Laminates/formica

Acrovyn, VT, Edger's, Masonite

Custom doors

Oversized doors
Hardware Options
Flush pulls

Surface pulls

Key locks with SFIC options

Privacy locks (with or without indicator)

Self-locking, self-latching mortise

Single action egress

Magnetic lock with key card

Electrified lock with built-in power transfer

Surface pulls with mortise lock

Antimicrobial coating available
Mod

T

rax™
High-Performance Sliding Door Systems